"Let the fresh fruits and vegetables be your guide, and make something that will keep for the whole week." Chef Marcus Samuelsson.
Do you need a new way to prepare a veggie dish? This is one of my favorite grilled veggie recipes. The marinade will make your mouth water! Your health is going to benefit from many ingredients in this recipe such as citrus being high in vitamin c and cumin which is a spice that helps aid digestion, treat insomnia and boosts overall immunity! Take control of your diet by making healthy meals!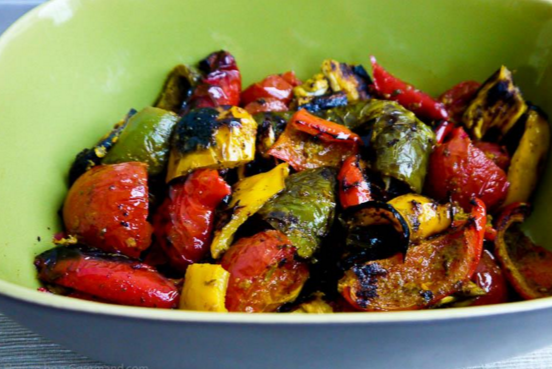 (source: en.paperblog.com)
What You Need:
Moroccan marinade for grilled vegetables:
1½ cups tomato sauce or puree
½ cup fresh orange juice
½ cup fresh lemon juice
¼ cup tamari soy sauce
4 cloves garlic
¼ cup honey or sweetener of choice
½ teaspoon red pepper flakes
1 teaspoon ground coriander
½ teaspoon ground cinnamon
2 teaspoons ground cumin
1 teaspoon fennel seeds, ground
2 teaspoons minced fresh ginger
1 tablespoon balsamic vinegar
Vegetables:
2 medium zucchini, sliced into 1/3″ rings
2 medium bell peppers, cut into 1″ pieces
1 large yellow onion, sliced and separated into 1″ pieces
1 lb mushrooms, rinsed and dried on paper towels
10 large wood skewers (soaked at least 30 minutes in water)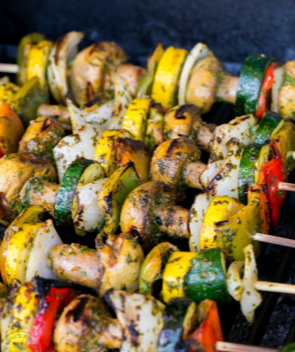 (source: natashaskitchen.com)
What you do:
Mix marinade ingredients in a large bowl with a whisk. Mix liquid ingredients with the honey first. This helps the honey dissolve, then add the spices, garlic and ginger. After chopping up all your veggies, add them to the bowl to marinate overnight. If you don't have time to leave the veggies overnight, 1 hour will work as well. Create veggie skewers and rub your grill down with coconut oil or olive oil. You can also roast the veggies in the oven at 400 degree fahrenheit if you don't have a grill. Cook the veggies until they have blackened. Serve your veggies over brown rice, quinoa or pair with fish for a complete meal. Bon apetite!