Contrary to popular belief, making food that is both healthy and tasty at the same time IS possible. Take, for instance, this recipe for arugula salad topped with goat cheese and garlic-lemon chicken.
The arugula in this dish makes it pop and the combination of flavors won't disappoint. Arugula is one of the healthiest and nutrient-rich greens you can eat, and it tastes divine when combined with garlic-lemon chicken, avocados and topped off with goat cheese. Yes, please!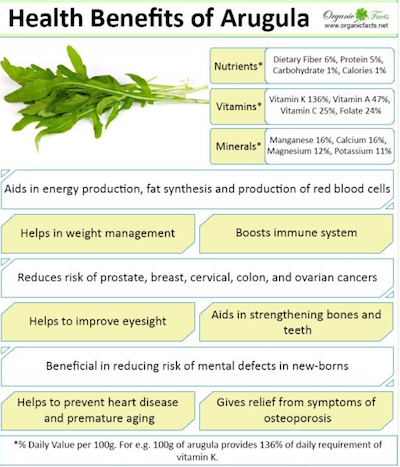 "Some of the health benefits of arugula include a lowered risk of cancer, healthy bones, and improved eyesight. It has antioxidant properties and is good for healthy skin. It also helps in strengthening the brain, improving metabolic functions, mineral absorption, and boosting the immune system."  – (source: www.organicfacts.net)
So go ahead and be brave.  Say yes to greens!  Your body will thank you.
Here are the ingredients:
1 bunch of arugula

1 head of romaine lettuce

3 large avocados

2 tomatoes

¼ of a large red onion

1 stick of goat cheese

4 chicken breasts

3 TSP olive oil

3 lemons

2 minced garlic cloves

1 TSP of Italian spices

1TSP of Paprika

salt and pepper to taste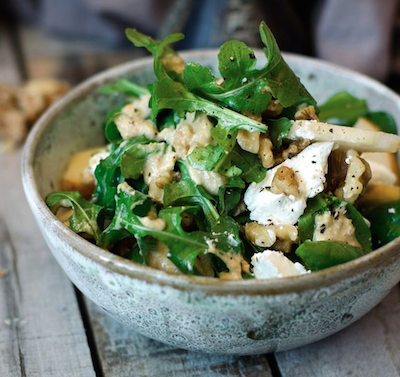 (source: Pinterest)
Here's how you make it:
In a small bowl, whisk the lemons, garlic and olive oil.  Rub the chicken breasts with Italian spices and paprika. Place the chicken in a dish to marinate in the garlic lemon special sauce for 30 minutes or more. The longer you let you the chicken soak, the more flavorful it is!
Preheat the oven to 350 degrees fahrenheit and bake the chicken for 45 minutes. Slice the chicken breasts and cover.
Thoroughly wash the lettuce and arugula.  Chop up  the greens, avocados, tomatoes, onions and mix together in a large bowl.  Wait to add the goat cheese until prior to tossing. Drizzle the salad with a little olive oil, balsamic and dash of salt and pepper.  Toss the salad and serve with the garlic-lemon chicken slices.!
This makes a satisfying and delicious meal for any occasion!