The "superfood" quinoa is a nutritious, yet tasty seed which is prepared and eaten similarly to the way you would a grain. Quinoa is packed in protein, fiber and contains no gluten! It also happens to be high in anti­oxidants. These healthy properties are linked to improved health.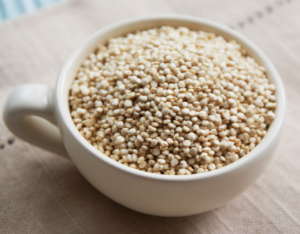 (source: nourishyou.in)
Quinoa is not only nutrient­ rich, but it is easily prepared and can be used in a variety of recipes. Here's one for a delicious gluten-free black bean and corn quinoa salad.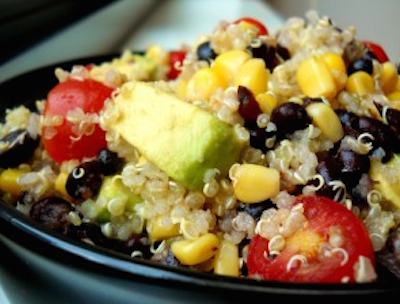 (source: Pinterest)

What you'll need:
2 cups of cooked quinoa
1 cup of black beans
1 cup of diced tomato
1 cup of corn
1 cup of diced mango
1 large diced avocado
1⁄4 cup of diced red onion
1⁄4 cup of cilantro
1 to 2 limes for dressing and a drizzle of olive oil or coconut oil
dash of salt and pepper to taste
Here are the instructions:
Mix the ingredients in a large bowl. Separately mix the dressing in a small bowl with a whisk. Slowly add the dressing to the quinoa salad. If you would like a spicy kick, add a jalapeno or your favorite salsa. Chill the salad for 20 minutes in the refrigerator and then enjoy a quick and healthy meal!
This salad also pairs great with grilled chicken or fish.
Enjoy!